Project title: : SAFIR 
(creation or strengthening of university incubators in North Africa and the Middle East)
Safir Project (2020-2024)
Project's duration: March 2020 – February 2024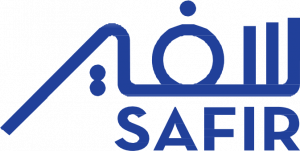 Presentation
More than 7 million young people from North Africa and the Middle East are students.
Higher education and research establishments (EESR) have three priority missions: training, scientific research and service to society. To carry out these missions, it is essential that they take into account, in their activities and in their relations with local actors, the socio-economic, cultural and environmental concerns of the territory in which they are located.
The university must therefore train responsible citizens who are able to integrate easily into society.
However, it is faced with a difficult regional context: on the one hand, the capacity for absorbing graduates by the national labor market is largely exceeded and on the other side, a large number of training delivered are not in line with the needs and challenges of sustainable and inclusive development; entrepreneurial skills are particularly lacking.
In order to ensure that young people's higher education qualifications are a guarantee of professional integration, universities must be supported to develop new professional skills and disseminate a civic and responsible culture among their students.
That is why Safir plans to create or strengthen 18 universally accessible incubation and innovation spaces on university campuses in the project's countries of operation. These spaces will be both places of transition between academia and the labor market. They will ensure:
strengthen students' skills;
promote business-university synergies;
raise public awareness of the challenges of the SDGs, making it possible to reach as many people as possible and to promote a civic culture among students and teacher-researchers.
The 18 higher education and research establishments will be selected through two calls for applications. They will benefit from technical and financial support to strengthen their academic offer in social entrepreneurship and create incubation spaces dedicated to student-entrepreneurs. This support will be divided into 3 phases:
A three-month diagnostic phase adapted to local needs and specificities;
A one-year support phase focused on action-training ;
An evaluation phase lasting more than three months.
The objective is to allow these spaces to incubate student social entrepreneurial initiatives (they will join Safir's network of innovative entrepreneurship support structures (SAEI) and to organise awareness-raising sessions on the SDGs. They will participate in regional meetings between project beneficiaries, and will have an annual programme of citizen events.
Expectations in terms of activities to be carried out within the framework of the project:
1. The adoption or strengthening of RSU governance
development of a charter on RSU
integration and consideration of the SDGs in the establishment strategy
2. support for the design or strengthening of training courses dedicated to social entrepreneurship and the challenges of the Sustainable Development Goals (SDGs)
rain-the-trainers for staff-teachers on the basic principles of social entrepreneurship (business model, regulatory framework, impact measurement, etc.);
Raising awareness and training of research teachers on SDG issues;
Practice time with students and visits to structures in the local ecosystem;
Design of an academic module.
3. The creation or strengthening of university incubators dedicated to social entrepreneurship.
Training of university staff to accompany entrepreneurial projects and to run incubators;
Development of awareness sessions on the objectives of sustainable development;
Development of an annual programme of citizen events;
Time to put economic actors and student-entrepreneurs in contact with each other;
Advocacy training for student-entrepreneur status if needed.
The EESRs will also be required to collaborate with the other beneficiaries of the Safir project via:
Integration into a regional network of incubators;
Participation in regional events dedicated to youth and labeled by the project;
The organisation of joint meetings with civil society organisations supported by the project.