Curriculum vitae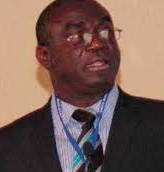 ---
Professor Oluwafemi.O Oguntibeju is a Professor of Biomedical Science and Group Leader (Phytomedicine & Phytochemistry Group), Department of Biomedical Sciences, Cape Peninsula University of Technology Bellville, South Africa. Over the years, he was involved in the field of HIV/AIDS and related- public health issues but later on natural products and health (Phytomedicine). He has successfully supervised over 20 honours' projects, 24 masters and 10 PhD students and currently supervising 6 doctoral and 6 masters' students at various stages of their programmes. He has also mentored five Postdoctoral Research Fellows.
Professor Oguntibeju has published over 200 scientific articles in peer-reviewed journals, 21 chapters in books, editor of three books on diabetes, presented over70 papers at international and national conferences. He is a member of editorial board of various scientific journals and reviews manuscripts for various scientific journals. He received various awards such as the Gold and Platinum Research Excellence Awards at his current university. In 2015, he received "Award for Excellence" in recognition of his contribution to biomedical research. He is a National Research Foundation (NRF) C-rated researcher. He qualified as a biomedical scientist in June 1992 and completed the national youth service corps (community service) in Sept 1993. He holds a Postgraduate Diploma (FIMLS) of the Institute of Medical Laboratory Science, Nigeria in Clinical Biochemistry (1994), MSc degree in Biochemistry from the University of Ibadan (1997), Nigeria and a doctoral degree (PhD) in Biomedical Science, Central University of Technology, Free State (2005), South Africa. He was a senior lecturer (Biochemistry) at Spartan Health Sciences
University, St Lucia, Caribbean from 2006-2008. He completed a postdoctoral research fellowship at the Cape Peninsula University of Technology, South Africa in 2009. He is a Chartered Scientist (CSci, UK), Fellow of the Institute of Biomedical Science (FIBMS), London and Fellow of the Australasian College of Biomedical Scientists (FACBS), Australia. In 2016, he was admitted as Fellow of American College of Nutrition (FACN). In 2018, Prof Oguntibeju was admitted as Fellow into the prestigious Royal Society of Chemistry, UK in the division of Chemistry-Biology Interface. He is a registered Professional Natural Scientist (Pr Sci Nat) with the South African Council for Natural Scientific Professions.